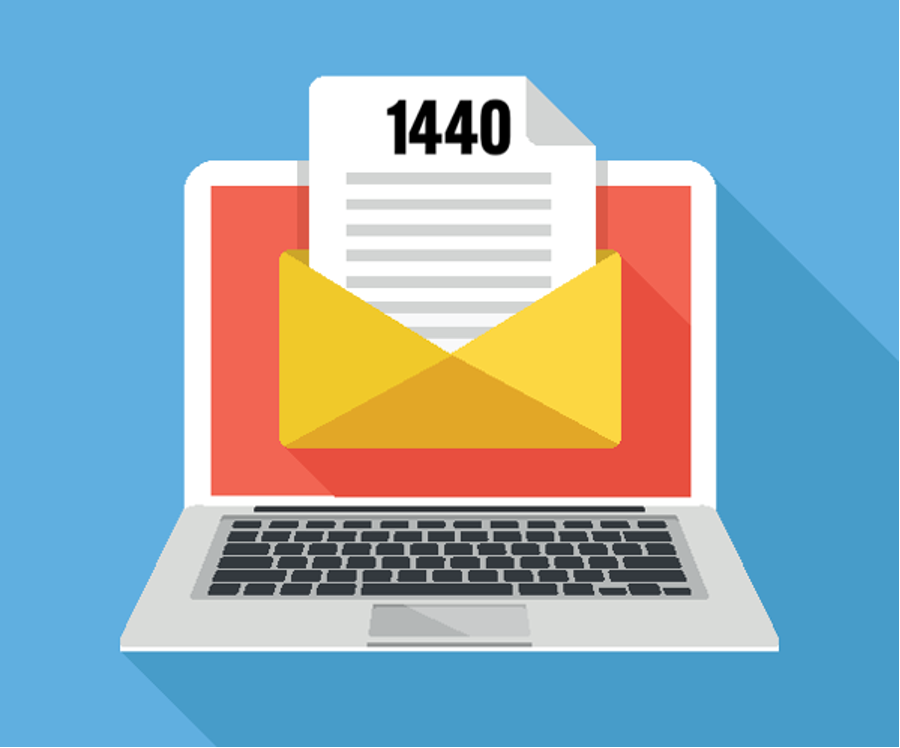 The popular 1440 Daily Digest newsletter is a digest of the latest news in politics, sports, business, science, and more.
Created by co-founder and COO Pierre Lipton, this daily newsletter appeals to busy Americans who are fed up with typical media outlets and clickbait headlines. 1440 shares refreshingly unbiased updates from 100+ news sources, curated by experts.
The team at Paved researched similar email digests matching 1440's subject matter and audience profile. Read on to learn more about each of these newsletters and find out how to sponsor them.
Newsletters like 1440: Find the right sponsorship audience
The 1440 email newsletter attracts busy professionals who want impartial news updates in five minutes or less. With a high open rate of over 55%, 1440's audience values objectivity and the ability to make up their own minds on trending issues.
According to data from Paved, 1440's readership has the following demographics:
· Average age = 38
· Average household income= $145k
· 50% male, 50% female
· 98%+ located in the USA
· 35% earned a postgraduate degree or higher
· Plenty of business decision-makers: 80%+ manager level or above
10 Excellent Alternatives to the 1440 Newsletter
Millions of subscribers
Brought to you by Mozilla, the Pocket Hits newsletter is a daily round-up of must-read content from across the internet. Professional editors handpick the most popular, interesting, and insightful articles and deliver them to the inboxes of their tech-savvy, professional readers.
Audience Profile:
· 3x more likely to hold a graduate degree
· $110K+ average annual income
· Average age of 31
· Tech, business, and finance professionals
✅ Advertise in Pocket Hits Newsletter
Millions of subscribers
Editors of this popular newsletter from Flipboard scour the internet daily for the 10 most interesting articles of the day. This publication is enjoyed by on-the-go business leaders and professionals who value reliable, journalism-driven news.
Audience Profile:
· Gender: 52% Male | 48% Female
· Age: 18-35 17% | 36-45 20% | 46-55 23% | 56+ 40%
· HHI: 100K+ 43% | $150K+ 25% | $200K+ 15%
✅ Advertise in Flipboard 10 for Today
Hundreds of thousands of subscribers
The Bloomberg Evening Briefing is a daily digest with the biggest daily news stories, including a weekend edition. Published by the Bloomberg Media Company, its award-winning content—from podcasts to newsletters—covers the latest updates in current events, technology, finance, and business.
Audience Profile:
· 69% Male - 31% Female,
· 83% Married, Any Children 49%
· Average Age 44 years old
· Household income Averages 193K.
· High proportion of CEOs, CFOs, and COOs in the audience
✅ Advertise in Bloomberg Evening Briefing
Hundreds of thousands of subscribers
Also known as "The Cliff's Notes of News," the Need2Know newsletter shares the most important stories in news, sports, and entertainment. Plus, its jokes, commentary, and pop culture references keep the news fun for hundreds of thousands of readers.
Audience Profile:
· Forward thinkers who are curious about what's next
· Diverse, multigenerational audience
Hundreds of thousands of subscribers
Newser is a digital news service that aggregates top stories from hundreds of sources and summarizes them into a headline, picture, and two paragraphs. Common topics covered in their newsletters include world news, current events, politics, business, entertainment, and sports.
Audience Profile:
· 56% male | 44% female
· HHI: 39% $50K-$100K | 22% $100K-$150K | 15% $150K+
· Age: 50% 30-59 | 44% 60+
· Education: 48% college | 28% grad school
Hundreds of thousands of subscribers
The well-known Inside.com brand produces this daily newsletter. Each issue is around five to ten stories long and covers current political news, worldwide business news, finance news, and market trends. It's curated with clear-cut commentary from a US perspective.
Audience Profile:
· 80% director level and above
· 75% work at enterprise and mid-cap companies
· 70,000 founders/execs, 60,000 developers, 50,000 marketers, 30,000 in sales, 25,000 in finance
· The majority work in the tech industry
Hundreds of thousands of subscribers
The Daily Chatter is the largest independent newsletter in the U.S. focused exclusively on world news. Each day, editors carefully curate more than 20 of the most important global news sources to bring readers a balanced perspective on the most important stories. With its non-partisan and fair journalism, Daily Chatter attracts a diverse audience in a variety of demographics.
Audience Profile:
· Highly engaged readers (open rates of 40%)
· Broad age range, from teens and twenties to retirees
· Large proportion of educated readers
✅ Advertise in The Daily Chatter
Hundreds of thousands of subscribers
Short Squeez is a daily newsletter that delivers business and tech news, stock picks, curated articles, and recommendations– all with a humorous twist and a sprinkling of memes. Its affluent subscriber base consists of the next generation of business leaders who rely on Short Squeez for valuable insights and entertainment, as well as product recommendations to enhance their professional lives.
Audience Profile:
Short Squeez's audience fits the following career profiles:
· Investment bankers
· Private equity/hedge fund professionals
· Institutional investors
· Startup founders
· Venture capitalists
· Consultants
· Crypto/blockchain enthusiasts
Tens of thousands of subscribers
The Report is a curated newsletter covering the latest news in business, finance, technology, and beyond. Its incisive reporting breaks down complex stories in an easy-to-read 5-minute format.
Audience Profile:
· Audience ranges from millennials to 65+
· 70% male, 30% female
· Interested in business, technology, finance and broad news
· A majority are professionals in media, tech, finance, or SaaS
Tens of thousands of subscribers
This nonpartisan publication delivers unbiased and interesting news that's actually fun to read. The flagship newsletter, The Donut (also known as "The Dose Of News Useful Today") gets sent out each weekday morning to an audience of highly educated professional readers.
Audience Profile:
· 80% female
· 54% under 34 years old
· 35% earn $100k+ per year
· 37% have a master's degree or above
· Primarily millennials and Gen Z
Find more news roundups in the Paved Marketplace
Sponsoring premium news publications will get your brand in front of millions of independent thinkers and smart professionals. Sign up as an advertiser with Paved to find trusted sponsorship partners like the 1440 Daily Digest. You can browse by ad type or category through our marketplace to find the best partner for your next campaign.